Costa Rican Youth Ambassador Alumni Take Action During Pandemic
The COVID-19 global pandemic has seen nearly 200,000 cases in Costa Rica during the past year motivating Youth Ambassador alumni Deily Alpizar, Melanie Morales, and Brian Paz to take action. The alumni received nearly 1 million Costa Rican Colones (nearly $2,000 USD) from the U.S. Embassy in San José to carry out a COVID rapid response initiative in seven different communities throughout the San Carlos region, including Boca de Arenal, Ciudad Quesada, and Florencia. Their project, entitled "En San Carlos Nos Lavamos las Manos (In San Carlos We Wash Our Hands)" launched on July 20, 2020 with the purchase of nine handwashing stations each equipped with a soap dispenser.
The hand washing campaigns were really needed. There were public institutions that did not have handwashing sinks, not to mention that the most rural communities in San Carlos lacked accurate information about how to protect themselves.

Deily Alpizar, Youth Ambassador alumnus from Costa Rica
In addition to installing the stations, the team designed and distributed flyers and posters showing proper hand-washing techniques. In accordance with local health regulations, the project members avoided contact when distributing and pasting them in restaurants, bakeries, barbershops, pharmacies, produce markets, and other high-traffic areas. The alumni distributed more than 80 flyers and posters over the span of several weeks.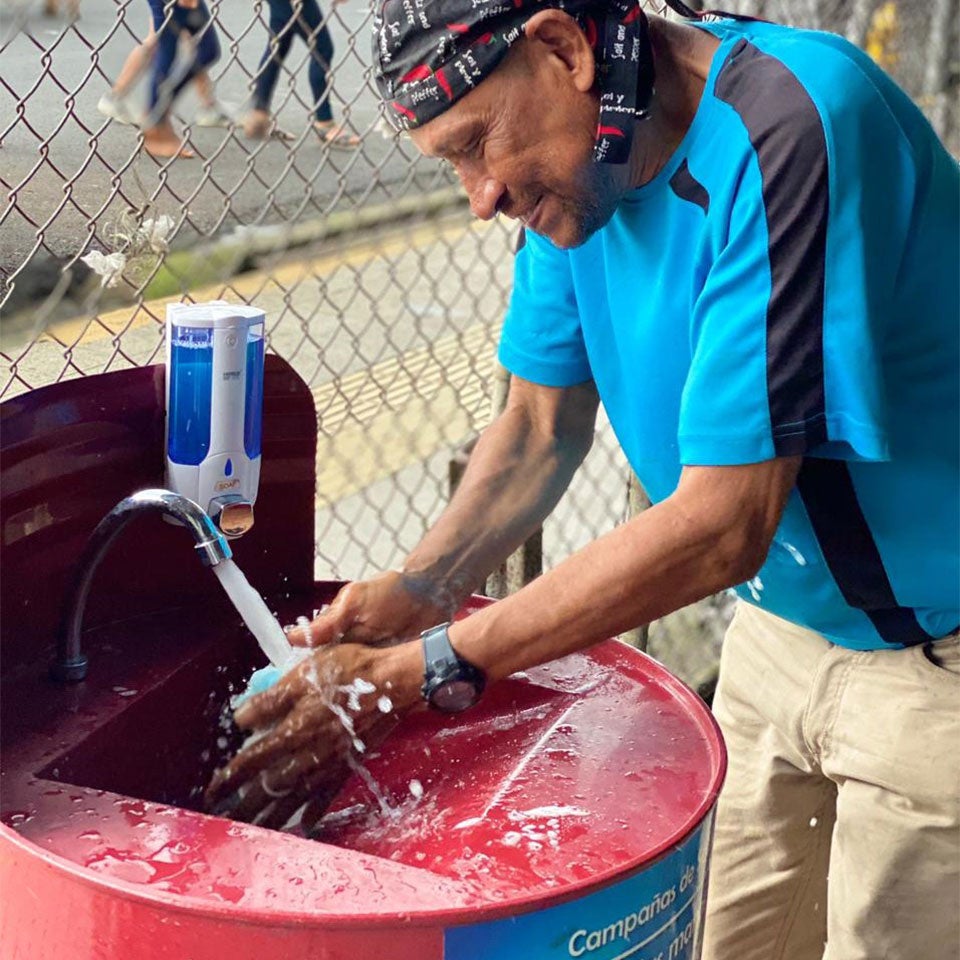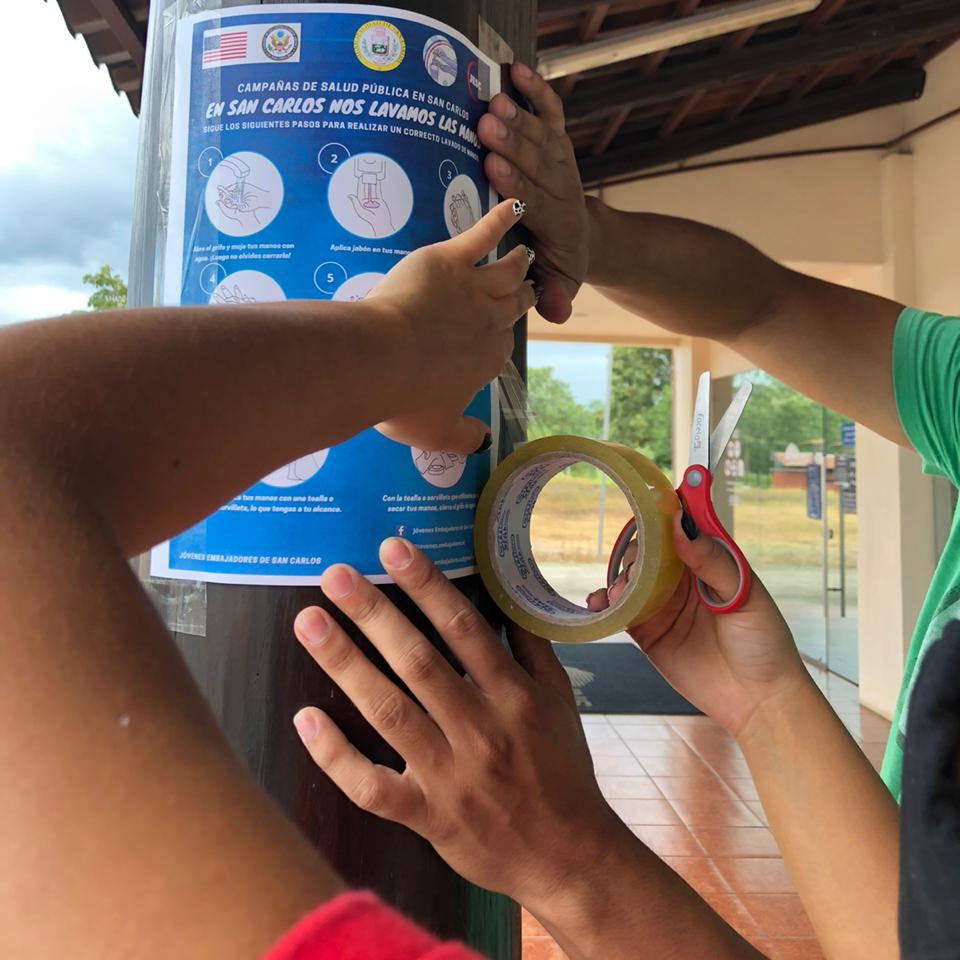 The youth-led team also made use of their social media skills. Each week, they shared safety tips through designated Facebook and Instagram accounts. This campaign shared information on the importance of proper handwashing, how to sterilize face masks, and how to cope with anxiety. To motivate social media participation, the team raffled off five COVID-19 kits for followers who shared what they learned with others. The digital campaigns reached a total of 6,343 social media users, and the alumni found strength in this connection.
I acknowledge the great resource social media is when spreading life-changing messages. It was amazing to interact with people and provide them with valuable information that benefits all of us.

Melanie Morales, Youth Ambassador alumna from Costa Rica
These three program alumni have expressed their commitment to making a positive difference within their communities in the future. Brian, the adult educator, was honored to work alongside Deily and Melanie as colleagues.
I really loved spreading the "let us all take care together" message. Now, I acknowledge that we can make a difference with simple actions. People in San Carlos can now take better care of themselves when dealing with COVID-19; I am grateful and honored to serve people from all backgrounds in my community.

Brian Paz, Youth Ambassador adult educator from Costa Rica
This is just one example of how Youth Ambassadors alumni continue to have a positive impact in their communities years after their exchange experiences. In May 2018, then high school students Deily and Melanie joined Brian to travel from their home community of San Carlos, Costa Rica to Marquette, Michigan and Washington, DC, along with 22 other participants from the Dominican Republic, Guatemala, Nicaragua, and Panama. During their time in the United States, they stayed with host families and learned about community service, which included planning and implementing a short-term community service project once back in Costa Rica.
Funded by the U.S. State Department's Bureau of Education and Cultural Affairs, the Youth Ambassadors Program promotes international friendship and allows youth from throughout the Americas to develop key leadership skills through short-term exchanges.
---
Related Program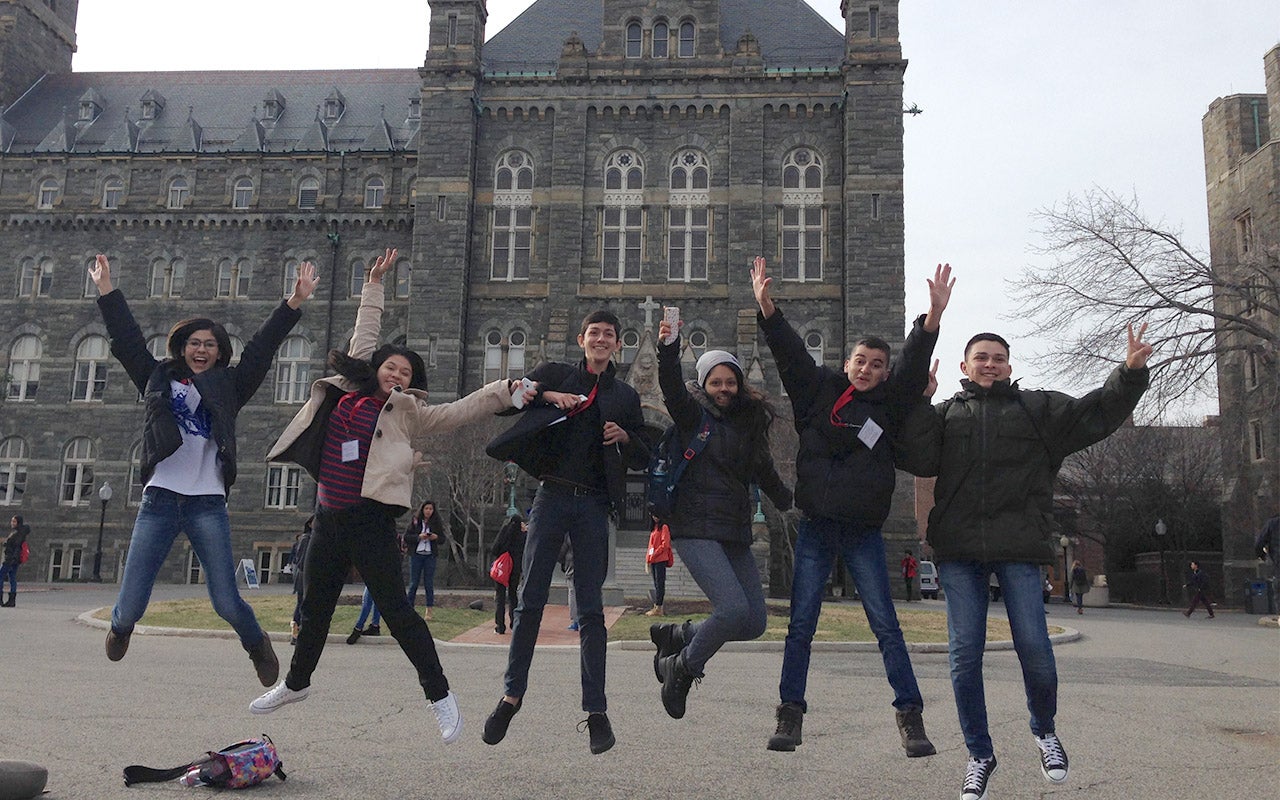 Youth Ambassadors
Youth Ambassadors is a cultural exchange program designed to strengthen the leadership skills of young people from the Caribbean, Latin America, and the United States. It builds bonds of friendship and understanding between people of the Americas and is sponsored by the Bureau of Educational and Cultural Affairs of the U.S. Department of State.
More