2023 MEPI Student Leaders Program Empowers MENA Region's Youth Leaders
This summer, in partnership with the Department of State, CIED welcomed 60 college student leaders from across the Middle East and North Africa to Washington, D.C., for another impactful year of the MEPI Student Leaders Program (SLP). To better adapt to the challenges presented by the global climate crisis, the Student Leaders Program adopted a climate change emphasis which will continue to be the focus in subsequent program years.
The 60 student leaders traveled from 15 countries — Morocco, Algeria, Libya, Tunisia, Egypt, Jordan, Israel, West Bank and Gaza, Lebanon, Syria, Iraq, Kuwait, Bahrain, Qatar, and Yemen — to participate in the program. After the opening ceremony, students were placed at one of four universities: Georgetown University, Portland State University (PSU), Montana State University, and the University of Delaware (UD).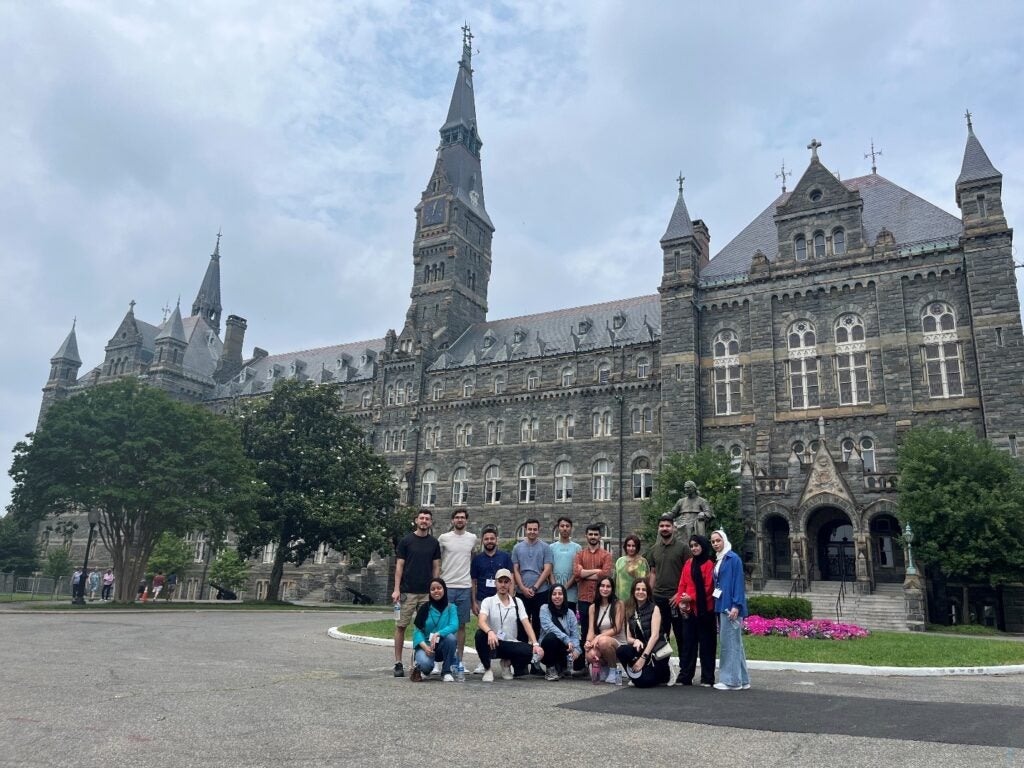 SLP was excited to welcome back Egypt and Syria into the program. Syrian nationals participating in the program joined from the regional Diaspora, bringing unique perspectives for how to improve societal conditions in their home and host countries.
Alia Al Bush, who is Syrian residing in Lebanon, commented, "Participating in the Student Leaders Program as a Syrian living abroad has been a transformative experience." The Georgetown University participant added, "By valuing and supporting our involvement, the program sends a powerful message about inclusivity, collaboration, and the collective effort to better the lives of those affected by conflict, regardless of their current location."
SLP was also enthusiastic about welcoming Egyptians back to the program. Aya, an Egyptian student leader placed at Montana State University noted, "Knowing that Egypt is back in the program was a motivation for me to put in more effort and be a better candidate for the program. The most remarkable thing I've learned from this amazing experience is how diversity could be one of our strengths as human beings."
As part of the climate emphasis, each university integrated climate change lectures and discussions into their academic curriculum, and environmental activities into their program calendar.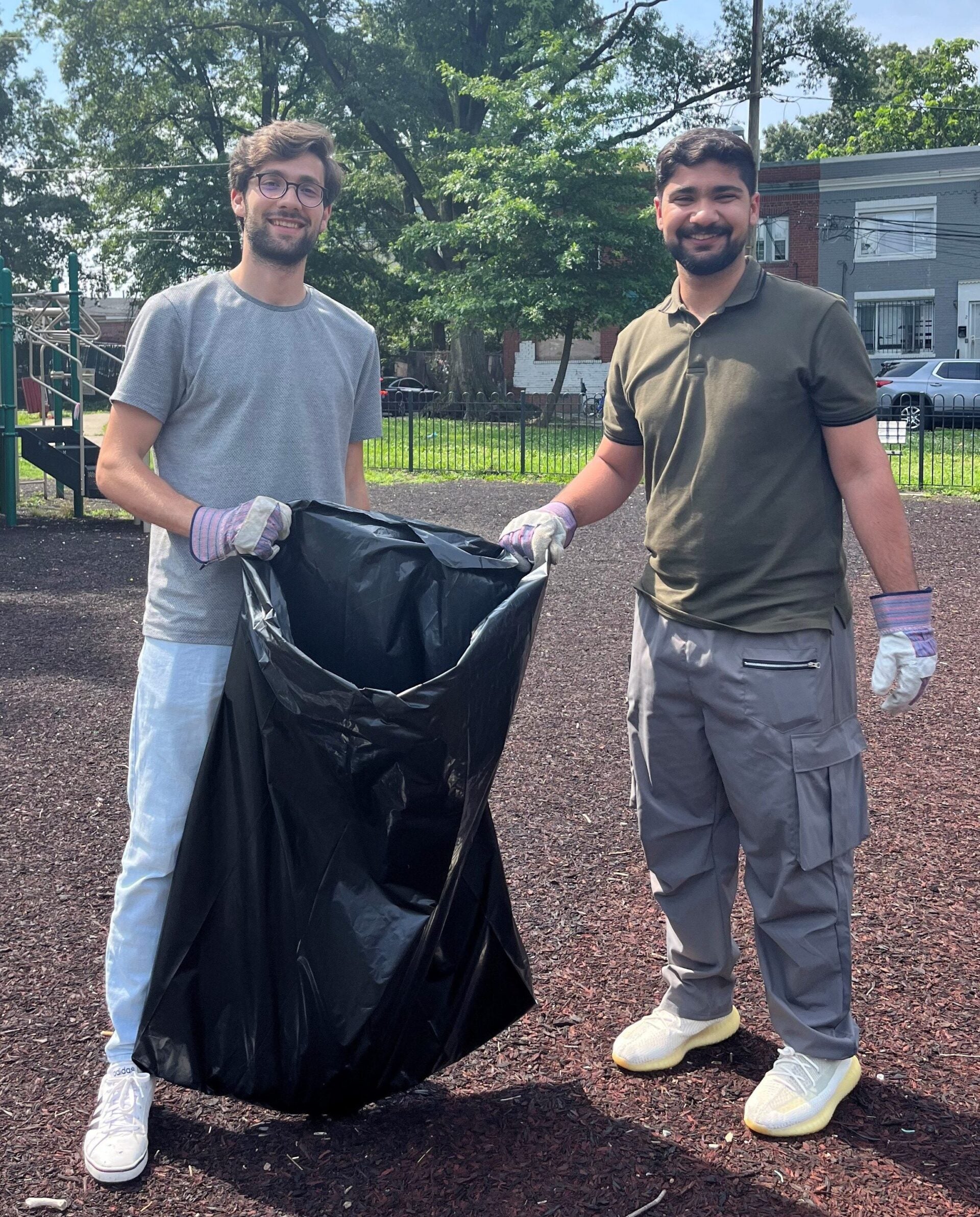 All four universities also incorporated site visits into the programs which showcased to participants the different strengths and characters of the regions that hosted them. Montana State University brought their students to explore Yellowstone National Park, while PSU arranged short visits with host families living in the Pacific Northwest for student leaders to experience American culture through hospitality. Student leaders at Georgetown University visited a variety of national and local nonprofits based in Washington, D.C., and Baltimore to model how organizations utilize their resources to work for social change. The University of Delaware gave students the opportunity to see the inner-workings of international cooperation and global governance up close through a visit to the United Nations' Headquarters in New York City.
Bahraini student Tariq Aujan reflected on his time saying, "UD has given me the space to challenge myself, has pushed me to learn about the world around me, and has encouraged me to gain independence, more so than I would have ever expected."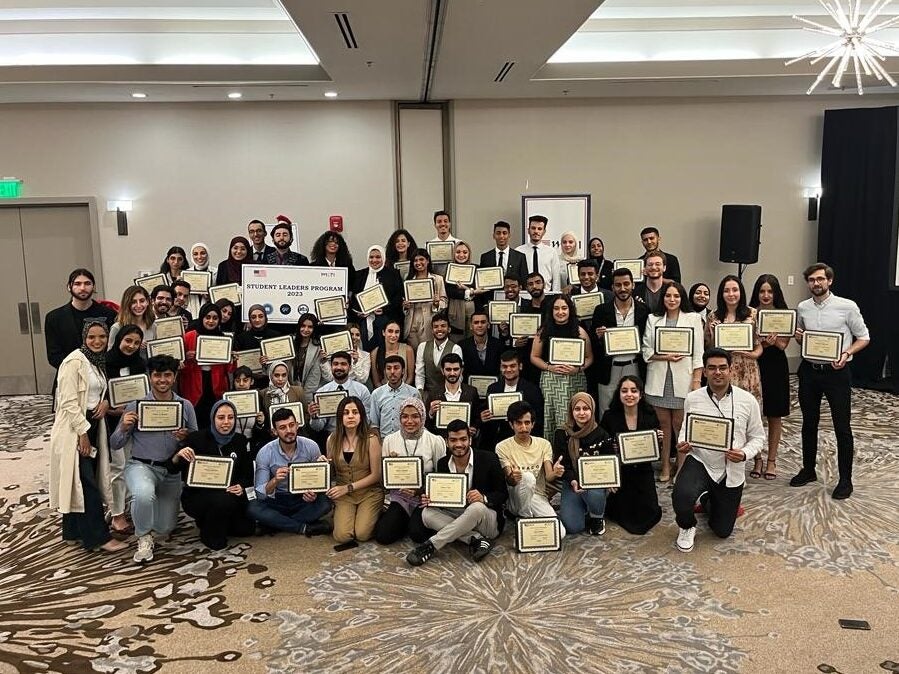 To conclude the program, student leaders presented their Community Engagement Projects (CEP), they each spent the summer developing with the help of their university faculty and peers. Many CEPs either had a direct focus on mitigating the effects and accelerants of climate change or aiding those whom the climate crisis has a disproportionately negative impact. CEPs include: investment in sustainable energy in Qatar, facilitating sustainable entrepreneurship amongst women in Bahrain, reducing garment industry waste through upcycling in Tunisia, and mitigating the effects of rising temperatures in arid environments in Iraq through tree planting.
Student leaders and SLP faculty and staff ended the program with a bittersweet celebration in Washington, D.C. The students leaders from all four universities shared what they learned from their unique experiences and discussed how they could utilize the impressive SLP network to collaborate on their CEPs and other civic engagement initiatives.
Funding for the Student Leaders Program is provided by the U.S. Department of State Bureau of Near Eastern Affairs Office of Assistance Coordination (NEA-AC).